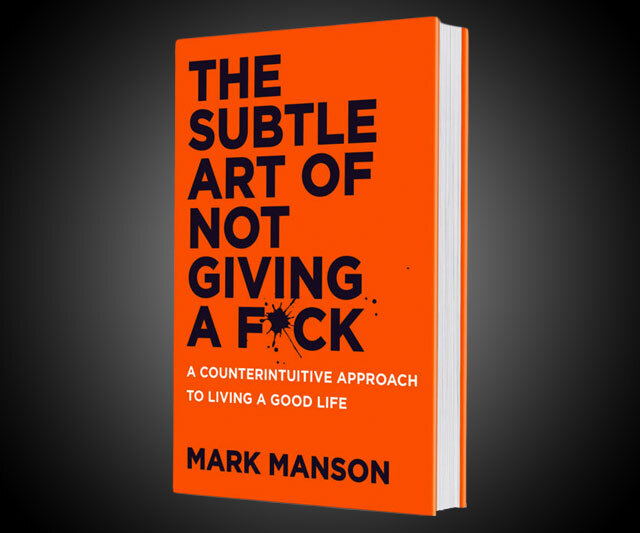 When I first got a copy of Mark Manson's bestseller, I was a little put off by the vocabulary. Was it necessary to use the f-bomb in every other sentence? Who was he trying to impress? As I kept reading, I came to the opinion that the book contained a lot of sage and sane advice for living well. As you can see from the extensive quotes I copied below, I encountered more than a few wise passages worthy of revisiting. I attribute the book's popularity to its candor. Manson doesn't sugarcoat anything. The book contains a sober assessment of the challenges of life and offers simple, down-to-earth strategies for managing them. It has held a top spot on Amazon's best seller list for over a year owing to this refreshing approach.
The Subtle Art of Not Giving a F*ck: A Counterintuitive Approach to Living a Good Life has made waves in the self-help industry. On a recent trip to Lebanon I was surprised to learn that one of our drivers had this book on his reading list. Continue below for a large sampling of my personal reading notes that illustrates why countless readers around the world have found this title compelling.
Reading Notes:
–> Our culture today is obsessively focused on unrealistically positive expectations: Be happier. Be healthier. Be the best, better than the rest. Be smarter, faster, richer, sexier, more popular, more productive, more envied, and more admired.
–> But when you stop and really think about it, conventional life advice—all the positive and happy self-help stuff we hear all the time—is actually fixating on what you lack. It lasers in on what you perceive your personal shortcomings and failures to already be, and then emphasizes them for you.
–> Ironically, this fixation on the positive—on what's better, what's superior—only serves to remind us over and over again of what we are not, of what we lack, of what we should have been but failed to be. After all, no truly happy person feels the need to stand in front of a mirror and recite that she's happy. She just is. There's a saying in Texas: "The smallest dog barks the loudest." A confident man doesn't feel a need to prove that he's confident.
–> Why? My guess: because giving a f*** about more stuff is good for business. And while there's nothing wrong with good business, the problem is that giving too many f***s is bad for your mental health. It causes you to become overly attached to the superficial and fake, to dedicate your life to chasing a mirage of happiness and satisfaction. The key to a good life is not giving a f*** about more; it's giving a f*** about less, giving a f*** about only what is true and immediate and important.
–> Now here's the problem: Our society today, through the wonders of consumer culture and hey-look-my-life-is-cooler-than-yours social media, has bred a whole generation of people who believe that having these negative experiences—anxiety, fear, guilt, etc.—is totally not okay.
–> The Feedback Loop from Hell has become a borderline epidemic, making many of us overly stressed, overly neurotic, and overly self-loathing. Back in Grandpa's day, he would feel like shi* and think to himself, "Gee whiz, I sure do feel like a cow turd today. But hey, I guess that's just life. Back to shoveling hay."
–> It's this last part that gets us into trouble. We feel bad about feeling bad. We feel guilty for feeling guilty. We get angry about getting angry. We get anxious about feeling anxious. What is wrong with me?
–> George Orwell said that to see what's in front of one's nose requires a constant struggle.
–> We joke online about "first-world problems," but we really have become victims of our own success. Stress-related health issues, anxiety disorders, and cases of depression have skyrocketed over the past thirty years, despite the fact that everyone has a flat-screen TV and can have their groceries delivered. Our crisis is no longer material; it's existential, it's spiritual.
–> The desire for more positive experience is itself a negative experience. And, paradoxically, the acceptance of one's negative experience is itself a positive experience.
–> The more you desperately want to be rich, the more poor and unworthy you feel, regardless of how much money you actually make. The more you desperately want to be sexy and desired, the uglier you come to see yourself, regardless of your actual physical appearance. The more you desperately want to be happy and loved, the lonelier and more afraid you become, regardless of those who surround you.
–> The pain you pursue in the gym results in better all-around health and energy. The failures in business are what lead to a better understanding of what's necessary to be successful. Being open with your insecurities paradoxically makes you more confident and charismatic around others. The pain of honest confrontation is what generates the greatest trust and respect in your relationships. Suffering through your fears and anxieties is what allows you to build courage and perseverance. Seriously, I could keep going, but you get the point. Everything worthwhile in life is won through surmounting the associated negative experience. Any attempt to escape the negative, to avoid it or quash it or silence it, only backfires. The avoidance of suffering is a form of suffering. The avoidance of struggle is a struggle. The denial of failure is a failure. Hiding what is shameful is itself a form of shame. Pain is an inextricable thread in the fabric of life, and to tear it out is not only impossible, but destructive: attempting to tear it out unravels everything else with it.
–> There is a subtle art to not giving a f***. And though the concept may sound ridiculous and I may sound like an asshole, what I'm talking about here is essentially learning how to focus and prioritize your thoughts effectively—how to pick and choose what matters to you and what does not matter to you based on finely honed personal values. This is incredibly difficult. It takes a lifetime of practice and discipline to achieve. And you will regularly fail. But it is perhaps the most worthy struggle one can undertake in one's life. It is perhaps the only struggle in one's life.
–> Because when you give too many f***s—when you give a f*** about everyone and everything—you will feel that you're perpetually entitled to be comfortable and happy at all times, that everything is supposed to be just exactly the f***ing way you want it to be. This is a sickness. And it will eat you alive. You will see every adversity as an injustice, every challenge as a failure, every inconvenience as a personal slight, every disagreement as a betrayal.
–> Subtlety #1: Not giving a f*** does not mean being indifferent; it means being comfortable with being different.
–> When we say, "Dam*, watch out, Mark Manson just don't give a f***," we don't mean that Mark Manson doesn't care about anything; on the contrary, we mean that Mark Manson doesn't care about adversity in the face of his goals, he doesn't care about pissing some people off to do what he feels is right or important or noble.
–> Because here's another sneaky little truth about life. You can't be an important and life-changing presence for some people without also being a joke and an embarrassment to others.
–> Subtlety #2: To not give a f*** about adversity, you must first give a f*** about something more important than adversity.
–> I once heard an artist say that when a person has no problems, the mind automatically finds a way to invent some. I think what most people—especially educated, pampered middle-class white people—consider "life problems" are really just side effects of not having anything more important to worry about. It then follows that finding something important and meaningful in your life is perhaps the most productive use of your time and energy.
–> Rejections that were painful in the moment have actually worked out for the best. We realize how little attention people pay to the superficial details about us, and we choose not to obsess so much over them.
–> I believe that today we're facing a psychological epidemic, one in which people no longer realize it's okay for things to suck sometimes. I know that sounds intellectually lazy on the surface, but I promise you, it's a life/ death sort of issue. Because when we believe that it's not okay for things to suck sometimes, then we unconsciously start blaming ourselves. We start to feel as though something is inherently wrong with us, which drives us to all sorts of overcompensation, like buying forty pairs of shoes or downing Xanax with a vodka chaser on a Tuesday night or shooting up a school bus full of kids.
–> On the contrary, I see practical enlightenment as becoming comfortable with the idea that some suffering is always inevitable—that no matter what you do, life is comprised of failures, loss, regrets, and even death. Because once you become comfortable with all the shi* that life throws at you (and it will throw a lot of shi*, trust me), you become invincible in a sort of low-level spiritual way. After all, the only way to overcome pain is to first learn how to bear it.
–> Instead, this book will turn your pain into a tool, your trauma into power, and your problems into slightly better problems. That is real progress. Think of it as a guide to suffering and how to do it better, more meaningfully, with more compassion and more humility. It's a book about moving lightly despite your heavy burdens, resting easier with your greatest fears, laughing at your tears as you cry them. This book will not teach you how to gain or achieve, but rather how to lose and let go. It will teach you to take inventory of your life and scrub out all but the most important items.
–> We suffer for the simple reason that suffering is biologically useful. It is nature's preferred agent for inspiring change. We have evolved to always live with a certain degree of dissatisfaction and insecurity, because it's the mildly dissatisfied and insecure creature that's going to do the most work to innovate and survive.
–> In fact, research has found that our brains don't register much difference between physical pain and psychological pain. So when I tell you that my first girlfriend cheating on me and leaving me felt like having an ice pick slowly inserted into the center of my heart, that's because, well, it hurt so much I might as well have had an ice pick slowly inserted into the center of my heart. Like physical pain, our psychological pain is an indication of something out of equilibrium, some limitation that has been exceeded.
–> "Don't hope for a life without problems," the panda said. "There's no such thing. Instead, hope for a life full of good problems."
–> To be happy we need something to solve. Happiness is therefore a form of action; it's an activity, not something that is passively bestowed upon you, not something that you magically discover in a top-ten article on the Huffington Post or from any specific guru or teacher.
–> True happiness occurs only when you find the problems you enjoy having and enjoy solving.
–> 1. Denial. Some people deny that their problems exist in the first place. And because they deny reality, they must constantly delude or distract themselves from reality. This may make them feel good in the short term, but it leads to a life of insecurity, neuroticism, and emotional repression.
–> 2. Victim Mentality. Some choose to believe that there is nothing they can do to solve their problems, even when they in fact could. Victims seek to blame others for their problems or blame outside circumstances. This may make them feel better in the short term, but it leads to a life of anger, helplessness, and despair.
–> We all have our chosen methods to numb the pain of our problems, and in moderate doses there is nothing wrong with this. But the longer we avoid and the longer we numb, the more painful it will be when we finally do confront our issues.
–> Emotions are merely signposts, suggestions that our neurobiology gives us, not commandments. Therefore, we shouldn't always trust our own emotions. In fact, I believe we should make a habit of questioning them.
–> Sadly, to deny one's negative emotions is to deny many of the feedback mechanisms that help a person solve problems.
–> Psychologists sometimes refer to this concept as the "hedonic treadmill": the idea that we're always working hard to change our life situation, but we actually never feel very different.
–> Everybody wants that. It's easy to want that. A more interesting question, a question that most people never consider, is, "What pain do you want in your life? What are you willing to struggle for?" Because that seems to be a greater determinant of how our lives turn out. For example, most people want to get the corner office and make a boatload of money—but not many people want to suffer through sixty-hour workweeks, long commutes, obnoxious paperwork, and arbitrary corporate hierarchies to escape the confines of an infinite cubicle hell.
–> Because happiness requires struggle. It grows from problems. Joy doesn't just sprout out of the ground like daisies and rainbows. Real, serious, lifelong fulfillment and meaning have to be earned through the choosing and managing of our struggles. Whether you suffer from anxiety or loneliness or obsessive-compulsive disorder or a dickhead boss who ruins half of your waking hours every day, the solution lies in the acceptance and active engagement of that negative experience—not the avoidance of it, not the salvation from it.
–> But the truth is far less interesting than any of these explanations. The truth is, I thought I wanted something, but it turns out I didn't. End of story. [musician life too unpleasant]
–> Who you are is defined by what you're willing to struggle for. People who enjoy the struggles of a gym are the ones who run triathlons and have chiseled abs and can bench-press a small house.
–> Sometime in the 1960s, developing "high self-esteem"— having positive thoughts and feelings about oneself—became all the rage in psychology. Research found that people who thought highly about themselves generally performed better and caused fewer problems. Many researchers and policymakers at the time came to believe that raising a population's self-esteem could lead to some tangible social benefits: lower crime, better academic records, greater employment, lower budget deficits. As a result, beginning in the next decade, the 1970s, self-esteem practices began to be taught to parents, emphasized by therapists, politicians, and teachers, and instituted into educational policy. Grade inflation, for example, was implemented to make low-achieving kids feel better about their lack of achievement. Participation awards and bogus trophies were invented for any number of mundane and expected activities.
–> But it's a generation later and the data is in: we're not all exceptional. It turns out that merely feeling good about yourself doesn't really mean anything unless you have a good reason to feel good about yourself. It turns out that adversity and failure are actually useful and even necessary for developing strong-minded and successful adults.
–> The problem with the self-esteem movement is that it measured self-esteem by how positively people felt about themselves. But a true and accurate measurement of one's self-worth is how people feel about the negative aspects of themselves. If a person like Jimmy feels absolutely f***ing great 99.9 percent of the time, despite his life falling apart around him, then how can that be a valid metric for a successful and happy life?
–> A person who actually has a high self-worth is able to look at the negative parts of his character frankly—" Yes, sometimes I'm irresponsible with money," "Yes, sometimes I exaggerate my own successes," "Yes, I rely too much on others to support me and should be more self-reliant"—and then acts to improve upon them.
–> When "real traumatic shi*" like this happens in our lives, we begin to unconsciously feel as though we have problems that we're incapable of ever solving. And this assumed inability to solve our problems causes us to feel miserable and helpless. But it also causes something else to happen. If we have problems that are unsolvable, our unconscious figures that we're either uniquely special or uniquely defective in some way. That we're somehow unlike everyone else and that the rules must be different for us. Put simply: we become entitled.
–> 1. I'm awesome and the rest of you all suck, so I deserve special treatment. 2. I suck and the rest of you are all awesome, so I deserve special treatment.
–> Because construing everything in life so as to make yourself out to be constantly victimized requires just as much selfishness as the opposite.
–> Often, it's this realization—that you and your problems are actually not privileged in their severity or pain—that is the first and most important step toward solving them. But for some reason, it appears that more and more people, particularly young people, are forgetting this. Numerous professors and educators have noted a lack of emotional resilience and an excess of selfish demands in today's young people.
–> School counselors note that more students than ever are exhibiting severe signs of emotional distress over what are otherwise run-of-the-mill daily college experiences, such as an argument with a roommate, or getting a low grade in a class. It's strange that in an age when we are more connected than ever, entitlement seems to be at an all-time high.
–> The more freedom we're given to express ourselves, the more we want to be free of having to deal with anyone who may disagree with us or upset us. The more exposed we are to opposing viewpoints, the more we seem to get upset that those other viewpoints exist.
–> Therefore, the only zeroes and ones that break through and catch our attention are the truly exceptional pieces of information—those in the 99.999th percentile. All day, every day, we are flooded with the truly extraordinary. The best of the best. The worst of the worst. The greatest physical feats. The funniest jokes. The most upsetting news. The scariest threats. Nonstop.
–> The inundation of the exceptional makes people feel worse about themselves, makes them feel that they need to be more extreme, more radical, and more self-assured to get noticed or even matter.
–> Being "average" has become the new standard of failure. The worst thing you can be is in the middle of the pack, the middle of the bell curve.
–> People who become great at something become great because they understand that they're not already great—they are mediocre, they are average—and that they could be so much better.
–> The ticket to emotional health, like that to physical health, comes from eating your veggies—that is, accepting the bland and mundane truths of life: truths such as "Your actions actually don't matter that much in the grand scheme of things" and "The vast majority of your life will be boring and not noteworthy, and that's okay." This vegetable course will taste bad at first. Very bad. You will avoid accepting it. But once ingested, your body will wake up feeling more potent and more alive. After all, that constant pressure to be something amazing, to be the next big thing, will be lifted off your back. The stress and anxiety of always feeling inadequate and constantly needing to prove yourself will dissipate.
–> The U.S. military, in conjunction with the Japanese government, dropped thousands of leaflets throughout the Pacific region, announcing that the war was over and it was time for everyone to go home. Onoda and his men, like many others, found and read these leaflets, but unlike most of the others, Onoda decided that they were fake, a trap set by the American forces to get the guerrilla fighters to show themselves. Onoda burned the leaflets, and he and his men stayed hidden and continued to fight.
–> To both men, their suffering meant something; it fulfilled some greater cause. And because it meant something, they were able to endure it, or perhaps even enjoy it.
–> Self-awareness is like an onion. There are multiple layers to it, and the more you peel them back, the more likely you're going to start crying at inappropriate times.
–> We all have emotional blind spots. Often they have to do with the emotions that we were taught were inappropriate growing up. It takes years of practice and effort to get good at identifying blind spots in ourselves and then expressing the affected emotions appropriately.
–> The third level is our personal values: Why do I consider this to be success/ failure? How am I choosing to measure myself? By what standard am I judging myself and everyone around me? This level, which takes constant questioning and effort, is incredibly difficult to reach. But it's the most important, because our values determine the nature of our problems, and the nature of our problems determines the quality of our lives.
–> Values underlie everything we are and do. If what we value is unhelpful, if what we consider success/ failure is poorly chosen, then everything based upon those values—the thoughts, the emotions, the day-to-day feelings—will all be out of whack. Everything we think and feel about a situation ultimately comes back to how valuable we perceive it to be.
–> Why do they feel such a need to be rich in the first place? How are they choosing to measure success/ failure for themselves? Is it not perhaps some particular value that's the root cause of their unhappiness, and not the fact that they don't drive a Bentley yet?
–> Why does his lack of relationship with you feel like a failure? "Because we're brothers; we're supposed to have a good relationship!" Two things are operating here: a value that I hold dear, and a metric that I use to assess progress toward that value. My value: brothers are supposed to have a good relationship with one another. My metric: being in contact by phone or email—this is how I measure my success as a brother. By holding on to this metric, I make myself feel like a failure, which occasionally ruins my Saturday mornings.
–> What is objectively true about your situation is not as important as how you come to see the situation, how you choose to measure it and value it. Problems may be inevitable, but the meaning of each problem is not. We get to control what our problems mean based on how we choose to think about them, the standard by which we choose to measure them.
–> If you want to change how you see your problems, you have to change what you value and/ or how you measure failure/ success.
–> These stories suggest that some values and metrics are better than others. Some lead to good problems that are easily and regularly solved. Others lead to bad problems that are not easily and regularly solved.
–> Pleasure is not the cause of happiness; rather, it is the effect. If you get the other stuff right (the other values and metrics), then pleasure will naturally occur as a by-product.
–> Denying negative emotions leads to experiencing deeper and more prolonged negative emotions and to emotional dysfunction. Constant positivity is a form of avoidance, not a valid solution to life's problems—problems which, by the way, if you're choosing the right values and metrics, should be invigorating you and motivating you.
–> The trick with negative emotions is to 1) express them in a socially acceptable and healthy manner and 2) express them in a way that aligns with your values.
–> (Side Note: As a rule, people who are terrified of what others think about them are actually terrified of all the shi*ty things they think about themselves being reflected back at them.) Some examples of good, healthy values: honesty, innovation, vulnerability, standing up for oneself, standing up for others, self-respect, curiosity, charity, humility, creativity.
–> Bad values are generally reliant on external events—flying in a private jet, being told you're right all the time, owning a house in the Bahamas…
–> This, in a nutshell, is what "self-improvement" is really about: prioritizing better values, choosing better things to give a f*** about. Because when you give better f***s, you get better problems. And when you get better problems, you get a better life.
–> The rest of this book is dedicated to five counterintuitive values that I believe are the most beneficial values one can adopt. All follow the "backwards law" we talked about earlier, in that they're "negative." All require confronting deeper problems rather than avoiding them through highs. These five values are both unconventional and uncomfortable. But, to me, they are life-changing.
–> The first, which we'll look at in the next chapter, is a radical form of responsibility: taking responsibility for everything that occurs in your life, regardless of who's at fault. The second is uncertainty: the acknowledgement of your own ignorance and the cultivation of constant doubt in your own beliefs. The next is failure: the willingness to discover your own flaws and mistakes so that they may be improved upon. The fourth is rejection: the ability to both say and hear no, thus clearly defining what you will and will not accept in your life. The final value is the contemplation of one's own mortality; this one is crucial, because paying vigilant attention to one's own death is perhaps the only thing capable of helping us keep all our other values in proper perspective.
–> Often the only difference between a problem being painful or being powerful is a sense that we chose it, and that we are responsible for it.
–> When we feel that we're choosing our problems, we feel empowered. When we feel that our problems are being forced upon us against our will, we feel victimized and miserable.
–> There is a simple realization from which all personal improvement and growth emerges. This is the realization that we, individually, are responsible for everything in our lives, no matter the external circumstances. We don't always control what happens to us. But we always control how we interpret what happens to us, as well as how we respond.
–> "With great power comes great responsibility." It is true. But there's a better version of this quote, a version that actually is profound, and all you have to do is switch the nouns around: "With great responsibility comes great power."
–> A lot of people hesitate to take responsibility for their problems because they believe that to be responsible for your problems is to also be at fault for your problems. Responsibility and fault often appear together in our culture. But they're not the same thing. If I hit you with my car, I am both at fault and likely legally responsible to compensate you in some way. Even if hitting you with my car was an accident, I am still responsible.
–> For example, if you woke up one day and there was a newborn baby on your doorstep, it would not be your fault that the baby had been put there, but the baby would now be your responsibility.
–> Here's one way to think about the distinction between the two concepts. Fault is past tense. Responsibility is present tense. Fault results from choices that have already been made. Responsibility results from the choices you're currently making, every second of every day. You are choosing to read this.
–> There's a difference between blaming someone else for your situation and that person's actually being responsible for your situation. Nobody else is ever responsible for your situation but you. Many people may be to blame for your unhappiness, but nobody is ever responsible for your unhappiness but you.
–> She was never going to pop up and fix things for me. I had to fix them for myself.
–> After all, people who date each other tend to have similar values. And if I dated someone with shi*ty values for that long, what did that say about me and my values? I learned the hard way that if the people in your relationships are selfish and doing hurtful things, it's likely you are too, you just don't realize it.
–> We all love to take responsibility for success and happiness. Hell, we often fight over who gets to be responsible for success and happiness. But taking responsibility for our problems is far more important, because that's where the real learning comes from. That's where the real-life improvement comes from. To simply blame others is only to hurt yourself.
–> "Victimhood chic" is in style on both the right and the left today, among both the rich and the poor. In fact, this may be the first time in human history that every single demographic group has felt unfairly victimized simultaneously. And they're all riding the highs of the moral indignation that comes along with it.
–> As political cartoonist Tim Kreider put it in a New York Times op-ed: "Outrage is like a lot of other things that feel good but over time devour us from the inside out. And it's even more insidious than most vices because we don't even consciously acknowledge that it's a pleasure."
–> Next, you'll feel like a failure. You've spent half your life measuring yourself by that old value, so when you change your priorities, change your metrics, and stop behaving in the same way, you'll fail to meet that old, trusted metric and thus immediately feel like some sort of fraud or nobody. This is also normal and also uncomfortable.
–> That woman doesn't get out there and date because she would be forced to confront her beliefs about her own desirability. That man doesn't ask for the promotion because he would have to confront his beliefs about what his skills are actually worth.
–> Second, once we create meaning for ourselves, our brains are designed to hold on to that meaning. We are biased toward the meaning our mind has made, and we don't want to let go of it. Even if we see evidence that contradicts the meaning we created, we often ignore it and keep on believing anyway.
–> Many or even most of our values are products of events that are not representative of the world at large, or are the result of a totally misconceived past.
–> It turned out Meredith wasn't alone. As she describes in her autobiography, My Lie: A True Story of False Memory, throughout the 1980s, many women accused male family members of sexual abuse only to turn around and recant years later.
–> We experience something. Then we remember it slightly differently a few days later, as if it had been whispered and misheard. Then we tell somebody about it and have to fill in a couple of the plot holes with our own embellishments to make sure everything makes sense and we're not crazy.
–> So when we have a great relationship with our sister, we'll interpret most of our memories about her in a positive light. But when the relationship sours, we'll often come to see those exact same memories differently, reinventing them in such a way as to explain our present-day anger toward her,
–> There's a lot of conventional wisdom out there telling you to "trust yourself," to "go with your gut," and all sorts of other pleasant-sounding clichés. But perhaps the answer is to trust yourself less. After all, if our hearts and minds are so unreliable, maybe we should be questioning our own intentions and motivations more. If we're all wrong, all the time, then isn't self-skepticism and the rigorous challenging of our own beliefs and assumptions the only logical route to progress?
–> In the mid-1990s, psychologist Roy Baumeister began researching the concept of evil. Basically, he looked at people who do bad things and at why they do them. At the time it was assumed that people did bad things because they felt horrible about themselves—that is, they had low self-esteem. One of Baumeister's first surprising findings was that this was often not true. In fact, it was usually the opposite. Some of the worst criminals felt pretty dam* good about themselves.
–> For individuals to feel justified in doing horrible things to other people, they must feel an unwavering certainty in their own righteousness, in their own beliefs and deservedness. Racists do racist things because they're certain about their genetic superiority. Religious fanatics blow themselves up and murder dozens of people because they're certain of their place in heaven as martyrs. Men rape and abuse women out of their certainty that they're entitled to women's bodies. Evil people never believe that they are evil; rather, they believe that everyone else is evil.
–> The problem here is that not only is certainty unattainable, but the pursuit of certainty often breeds more (and worse) insecurity.
–> The more something threatens your identity, the more you will avoid it.
–> This is why people are often so afraid of success—for the exact same reason they're afraid of failure: it threatens who they believe themselves to be.
–> Giving up that lifestyle threatened his identity too much. The Party Guy was all he knew how to be. To give that up would be like committing psychological hara-kiri.
–> In this way, "knowing yourself" or "finding yourself" can be dangerous. It can cement you into a strict role and saddle you with unnecessary expectations. It can close you off to inner potential and outer opportunities. I say don't find yourself. I say never know who you are. Because that's what keeps you striving and discovering. And it forces you to remain humble in your judgments and accepting of the differences in others.
–> When someone admits to herself, "You know, maybe I'm not good at relationships," then she is suddenly free to act and end her bad marriage. She has no identity to protect by staying in a miserable, crappy marriage just to prove something to herself. When the student admits to himself, "You know, maybe I'm not a rebel; maybe I'm just scared," then he's free to be ambitious again. He has no reason to feel threatened by pursuing his academic dreams and maybe failing.
–> I have both some good news and some bad news for you: there is little that is unique or special about your problems. That's why letting go is so liberating.
–> When you assume that your plane is the one that's going to crash, or that your project idea is the stupid one everyone is going to laugh at, or that you're the one everyone is going to choose to mock or ignore, you're implicitly telling yourself, "I'm the exception; I'm unlike everybody else; I'm different and special." This is narcissism, pure and simple. You feel as though your problems deserve to be treated differently…
–> The narrower and rarer the identity you choose for yourself, the more everything will seem to threaten you. For that reason, define yourself in the simplest and most ordinary ways possible. This often means giving up some grandiose ideas about yourself: that you're uniquely intelligent, or spectacularly talented, or intimidatingly attractive, or especially victimized in ways other people could never imagine. This means giving up your sense of entitlement and your belief that you're somehow owed something by this world.
–> Aristotle wrote, "It is the mark of an educated mind to be able to entertain a thought without accepting it."
–> I say I was fortunate because I entered the adult world already a failure. I started out at rock bottom. That's basically everybody's biggest fear later on in life, when confronted with starting a new business or changing careers or quitting an awful job, and I got to experience it right out of the gates. Things could only get better.
–> Improvement at anything is based on thousands of tiny failures, and the magnitude of your success is based on how many times you've failed at something. If someone is better than you at something, then it's likely because she has failed at it more than you have. If someone is worse than you, it's likely because he hasn't been through all of the painful learning experiences you have. If you think about a young child trying to learn to walk, that child will fall down and hurt itself hundreds of times. But at no point does that child ever stop and think, "Oh, I guess walking just isn't for me. I'm not good at it."
–> A lot of this fear of failure comes from having chosen shi*ty values. For instance,
if I measure myself by the standard "Make everyone I meet like me," I will be anxious, because failure is 100 percent defined by the actions of others, not by my own actions. I am not in control; thus my self-worth is at the mercy of judgments by others.
–> If your metric for the value "success by worldly standards" is "Buy a house and a nice car," and you spend twenty years working your ass off to achieve it, once it's achieved the metric has nothing left to give you. Then say hello to your midlife crisis, because the problem that drove you your entire adult life was just taken away from you. There are no other opportunities to keep growing and improving, and yet it's growth that generates happiness, not a long list of arbitrary achievements.
–> As Dabrowski studied the survivors, he noticed something both surprising and amazing. A sizable percentage of them believed that the wartime experiences they'd suffered, although painful and indeed traumatic, had actually caused them to become better, more responsible, and yes, even happier people.[Polish]
–> After the war they felt more confident, more sure of themselves, more grateful, and unfazed by life's trivialities and petty annoyances.
–> And they aren't alone in that reversal. For many of us, our proudest achievements come in the face of the greatest adversity. Our pain often makes us stronger, more resilient, more grounded. Many cancer survivors, for example, report feeling stronger and more grateful after winning their battle to survive. Many military personnel report a mental resilience gained from withstanding the dangerous environments of being in a war zone.
–> Dabrowski argued that fear and anxiety and sadness are not necessarily always undesirable or unhelpful states of mind; rather, they are often representative of the necessary pain of psychological growth. And to deny that pain is to deny our own potential. Just as one must suffer physical pain to build stronger bone and muscle, one must suffer emotional pain to develop greater emotional resilience, a stronger sense of self, increased compassion, and a generally happier life.
–> Our most radical changes in perspective often happen at the tail end of our worst moments. It's only when we feel intense pain that we're willing to look at our values and question why they seem to be failing us. We need some sort of existential crisis to take an objective look at how we've been deriving meaning in our life, and then consider changing course.
–> I struggled with social anxiety throughout much of my adolescence and young adult life. I spent most of my days distracting myself with video games and most of my nights either drinking or smoking away my uneasiness. For many years, the thought of speaking to a stranger—especially if that stranger happened to be particularly attractive/ interesting/ popular/ smart—felt impossible to me. I walked around in a daze for years, asking myself dumb VCR questions: "How? How do you just walk up and talk to a person? How can somebody do that?" I had all sorts of screwed-up beliefs about this, like that you weren't allowed to speak to someone unless you had some practical reason to, or that women would think I was a creepy rapist if I so much as said, "Hello." The problem was that my emotions defined my reality. Because it felt like people didn't want to talk to me, I came to believe that people didn't want to talk to me. And thus, my VCR question: "How do you just walk up and talk to a person?" Because I failed to separate what I felt from what was, I was incapable of stepping outside myself and seeing the world for what it was: a simple place where two people can walk up to each other at any time and speak.
–> Action isn't just the effect of motivation, it's the cause of it.
–> If you lack the motivation to make an important change in your life, do something—anything, really—and then harness the reaction to that action as a way to begin motivating yourself.
–> If we follow the "do something" principle, failure feels unimportant. When the standard of success becomes merely acting—when any result is regarded as progress and important, when inspiration is seen as a reward rather than a prerequisite—we propel ourselves ahead. We feel free to fail, and that failure moves us forward.
–> Freedom grants the opportunity for greater meaning, but by itself there is nothing necessarily meaningful about it. Ultimately, the only way to achieve meaning and a sense of importance in one's life is through a rejection of alternatives, a narrowing of freedom, a choice of commitment to one place, one belief, or (gulp) one person.
–> And as someone who had been starved of this kind of blunt expression most of his life—first by an emotionally repressed family life, then later by a meticulously constructed false display of confidence—I got drunk on it like, well, like it was the finest dam* vodka I'd ever had. The month I spent in Saint Petersburg went by in a blur, and by the end I didn't want to leave.
–> The desire to avoid rejection at all costs, to avoid confrontation and conflict, the desire to attempt to accept everything equally and to make everything cohere and harmonize, is a deep and subtle form of entitlement. Entitled people, because they feel as though they deserve to feel great all the time, avoid rejecting anything because doing so might make them or someone else feel bad.
–> Rejection is an important and crucial life skill. Nobody wants to be stuck in a relationship that isn't making them happy. Nobody wants to be stuck in a business doing work they hate and don't believe in. Nobody wants to feel that they can't say what they really mean. [Honesty generates comfort with hearing and saying no]
–> It's suspected by many scholars that Shakespeare wrote Romeo and Juliet not to celebrate romance, but rather to satirize it, to show how absolutely nutty it was. He didn't mean for the play to be a glorification of love. In fact, he meant it to be the opposite: a big flashing neon sign blinking KEEP OUT, with police tape around it saying DO NOT CROSS.
–> The problem is that we're finding out that romantic love is kind of like cocaine. Like, frighteningly similar to cocaine. Like, stimulates the exact same parts of your brain as cocaine. Like, gets you high and makes you feel good for a while but also creates as many problems as it solves, as does cocaine.
–> The truth is, there are healthy forms of love and unhealthy forms of love. Unhealthy love is based on two people trying to escape their problems through their emotions for each other—in other words, they're using each other as an escape. Healthy love is based on two people acknowledging and addressing their own problems with each other's support.
–> What do poor boundaries look like? Here are some examples: "You can't go out with your friends without me. You know how jealous I get. You have to stay home with me." "My coworkers are idiots; they always make me late to meetings because I have to tell them how to do their jobs." "I can't believe you made me feel so stupid in front of my own sister. Never disagree with me in front of her again!" "I'd love to take that job in Milwaukee, but my mother would never forgive me for moving so far away." "I can date you, but can you not tell my friend Cindy? She gets really insecure when I have a boyfriend and she doesn't." In each scenario, the person is either taking responsibility for problems/ emotions that are not theirs, or demanding that someone else take responsibility for their problems/ emotions.
–> The mark of an unhealthy them either, because that likewise won't make them happy. The mark of an unhealthy relationship is two people who try to solve each other's problems in order to feel good about themselves. Rather, a healthy relationship is when two people solve their own problems in order to feel good about each other.
–> Instead, victims and savers both use each other to achieve emotional highs. It's like an addiction they fulfill in one another. Ironically, when presented with emotionally healthy people to date, they usually feel bored or lack "chemistry" with them. They pass on emotionally healthy, secure individuals because the secure partner's solid boundaries don't feel "exciting" enough to stimulate the constant highs necessary in the entitled person.
–> People with strong boundaries are not afraid of a temper tantrum, an argument, or getting hurt. People with weak boundaries are terrified of those things and will constantly mold their own behavior to fit the highs and lows of their relational emotional roller coaster.
–> Without conflict, there can be no trust. Conflict exists to show us who is there for us unconditionally and who is just there for the benefits. No one trusts a yes-man. If Disappointment Panda were here, he'd tell you that the pain in our relationship is necessary to cement our trust in each other and produce greater intimacy.
–> If people cheat, it's because something other than the relationship is more important to them. It may be power over others. It may be validation through sex. It may be giving in to their own impulses.
–> I use the example of cheating in a romantic relationship, but this process applies to a breach in any relationship. When trust is destroyed, it can be rebuilt only if the following two steps happen: 1) the trust-breaker admits the true values that caused the breach and owns up to them, and 2) the trust-breaker builds a solid track record of improved behavior over time. Without the first step, there should be no attempt at reconciliation in the first place.
–> When we're overloaded with opportunities and options, we suffer from what psychologists refer to as the paradox of choice. Basically, the more options we're given, the less satisfied we become with whatever we choose, because we're aware of all the other options we're potentially forfeiting.
–> But while investing deeply in one person, one place, one job, one activity might deny us the breadth of experience we'd like, pursuing a breadth of experience denies us the opportunity to experience the rewards of depth of experience.
–> Commitment gives you freedom because you're no longer distracted by the unimportant and frivolous. Commitment gives you freedom because it hones your attention and focus, directing them toward what is most efficient at making you healthy and happy.
–> But depth is where the gold is buried.
–> I went into a deep depression that summer. I thought I'd been depressed before, but this was a whole new level of meaninglessness—sadness so deep that it physically hurt.
–> Pre-tragedy, I was inhibited, unambitious, forever obsessed and confined by what I imagined the world might be thinking of me.
–> This realization causes what Becker calls "death terror," a deep existential anxiety that underlies everything we think or do.
–> Becker's argument is this: We are all aware on some level that our physical self will eventually die, that this death is inevitable, and that its inevitability—on some unconscious level—scares the shi* out of us. Therefore, in order to compensate for our fear of the inevitable loss of our physical self, we try to construct a conceptual self that will live forever. This is why people try so hard to put their names on buildings, on statues, on spines of books. It's why we feel compelled to spend so much time giving ourselves to others, especially to children, in the hopes that our influence—our conceptual self—will last way beyond our physical self.
–> Becker argues that wars and revolutions and mass murder occur when one group of people's immortality projects rub up against another group's. Centuries of oppression and the bloodshed of millions have been justified as the defense of one group's immortality project against another's. But, when our immortality projects fail, when the meaning is lost, when the prospect of our conceptual self outliving our physical self no longer seems possible or likely, death terror—that horrible, depressing anxiety—creeps back into our mind. Trauma can cause this, as can shame and social ridicule. As can, as Becker points out, mental illness. If you haven't figured it out yet, our immortality projects are our values.
–> Becker later came to a startling realization on his deathbed: that people's immortality projects were actually the problem, not the solution; that rather than attempting to implement, often through lethal force, their conceptual self across the world, people should question their conceptual self and become more comfortable with the reality of their own death. Becker called this "the bitter antidote," and struggled with reconciling it himself as he stared down his own demise.
–> Because once we become comfortable with the fact of our own death—the root terror, the underlying anxiety motivating all of life's frivolous ambitions—we can then choose our values more freely, unrestrained by the illogical quest for immortality, and freed from dangerous dogmatic views.
–> The Stoics of ancient Greece and Rome implored people to keep death in mind at all times, in order to appreciate life more and remain humble in the face of its adversities.
–> Confronting the reality of our own mortality is important because it obliterates all the crappy, fragile, superficial values in life.
–> How will the world be different and better when you're gone? What mark What is your legacy? How will the world be different and better when you're gone? What mark will you have made? What influence will you have caused? They say that a butterfly flapping its wings in Africa can cause a hurricane in Florida; well, what hurricanes will you leave in your wake?
–> And when we avoid this question, we let trivial and hateful values hijack our brains and take control of our desires and ambitions. Without acknowledging the ever-present gaze of death, the superficial will appear important, and the important will appear superficial. Death is the only thing we can know with any certainty.
–> The only way to be comfortable with death is to understand and see yourself as something bigger than yourself; to choose values that stretch beyond serving yourself, that are simple and immediate and controllable and tolerant of the chaotic world around you.
–> And entitlement strips this away And entitlement strips this away from us. The gravity of entitlement sucks all attention inward, toward ourselves, causing us to feel as though we are at the center of all of the problems in the universe, that we are the one suffering all of the injustices, that we are the one who deserves greatness over all others.
–> People declare themselves experts, entrepreneurs, inventors, innovators, mavericks, and coaches without any real-life experience. And they do this not because they actually think they are greater than everybody else; they do it because they feel that they need to be great to be accepted in a world that broadcasts only the extraordinary. Our culture today confuses great attention and great success, assuming them to be the same thing. But they are not.
–> But these were side effects of a deeper, more primary lesson. And the primary lesson was this: there is nothing to be afraid of. Ever. And reminding myself of my own death repeatedly over the years—whether it be through meditation, through reading philosophy, or through doing crazy shi* like standing on a cliff in South Africa—is the only thing that has helped me hold this realization front and center in my mind.